Our History
1892 An English Barrister, E.P. Field, preached to lunch-hour crowds in Martin Place, Sydney, Australia, and formed the NSW Prayer Band to support this growing ministry.
1913 The NSW Prayer Band was renamed the NSW Evangelistic Prayer Band.
1922 W Bradley changed the name to 'Open Air Campaigners'. Gospel wagons were used to take the gospel message to people throughout NSW.
1939 OAC worked among the armed services during World War II.
1940 – 1950 OAC extended to Queensland, Victoria, South Australia and overseas, firstly to New Zealand. During this period, the typical sketch board painting method of the time became a primary method of evangelism, something OAC was well known for.
By 1970 OAC was well established in North America, Britain and Germany. During the 1970s, residential ministry extended to the Netherlands and Italy, with opportunities for growth occurring in many other countries.
The 1980s saw significant expansion beyond the previously established centres and saw the establishment of branches in the former Communist Block, Latin America and India. OAC's ministry also commenced in Western Australia in 1988.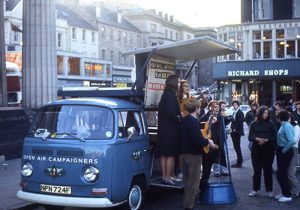 1982 The Australian-based organisation changed its name to "OAC Ministries" from "Open Air Campaigners," reflecting its desire to present the message in more culturally attuned ways and work with churches in Outreach And Church ministries.
In the 1990s, School Presentations increased, as did Community Contact Weeks hosted by local churches. OAC presenters became sought after for camps and other outreach settings.
Today OAC International unites more than 30 nations under a shared covenant to preach the gospel wherever God gives the opportunity. In Australia, OAC's founding country OAC is a growing and thriving evangelism ministry seeking to reach Aussies with the gospel of Jesus Christ in an increasingly hostile culture.